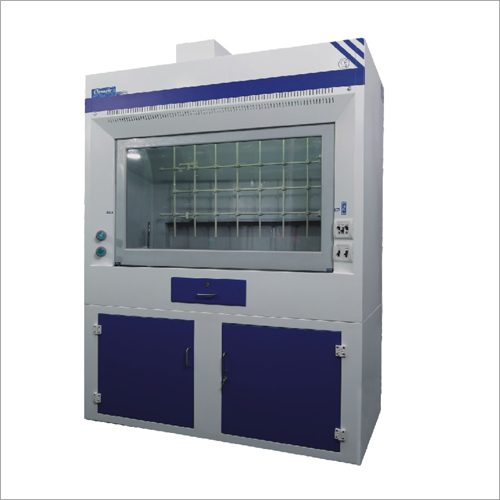 Laboratory Fume Exhaust Hoods
Price And Quantity
Unit/Units

115000.00 - 275000.00 INR
Product Description
Introduction
Removing toxic gases and fumes from the lab is critical, considering the occupational safety and health. Here you can find the useful information that will help you in making decision about right exhaust system and hood for your laboratory.
It is better to carry out lab or chemical testing processes within an enclosed cabinet in order to contain and remove odour, fumes, and contamination caused by the processes.
Ideally, the best solution is to make sure that no contaminant is emitted, but the next best solution is to remove or exhaust contaminants quickly for the closest point of origin in order to protect personnel and assets. A fume exhaust system with properly designed hood, where room air is drawn across the hood face in order to efficiently capture and remove the contaminations.
Compromising Fume Hood Usage
The efficiency of the fume hood relies on the hood design and amount of air exhausted. A properly designed fume hood that can exhaust air at ample rate enough for completely removing the contaminants can ensure maximum personnel safety and operation flexibility.
Fume Hood Design - Some Basic Points
The main purpose of the hood exhaust system is to provide complete protection to lab personnel from exposure. The main elements of the system are hood and exhaust devices. All hood designs developed can provide personnel protection in three ways:
Mechanical shield
Direction of air movement
Dilution of contaminants by blending with air inside the hood
The hood sash acts as the mechanical shield
The hood sash must be in raised position so that it can intake a large volume of air during any chemical process. The sash must not be lowered at a very low level as it would cause high speed air draft as well as adverse effect on chemical process if a burner is used inside. A good quality sash made of material like tempered glass might minimize the impact on operate in an event of an accident.
Protection by the direction of air flow
The air flow must be directly into the hood passing across the back of the operator and then into the exhaust system. No back draft of air protects the operator as there is no contaminated air at hid breathing zone.
Supply large amounts of air
The contaminated air is diluted through the hood that reduces the hazard of breathing hood air. Currently, there are seven basic hood designs in use. Air exhausted from a hood must not be re-circulated. An essential design feature of a hood exhaust system is that a makeup air is to be supplied inside the lab to balance the air being exhausted.
Material of Construction
The design of a basic fume hood is changed very little. The advances are made in the material used in the construction of hoods. The basic material that are used for the construction are mentioned below:
Wood
Polyvinyl chloride
Polypropylene
Sheet Material (CRCA)
Fibre glass
Stainless Steel
Exhaust System
Roof Fan: The contamination is confined as exhaust system is under negative pressure and any air leakage is drawn into the system. The exhaust fan serving hood must be located on the roof, and all exhaust ductwork must be on the suction side of the fan and in indoors. This configuration is not possible always. Non-corrosive materials like PVC, galvanized iron, stainless steel and FRP must be used for making exhaust duct. The duct material is generally selected based on the corrosive characteristic of the emission gas.
Basic Hood Designs:
Conventional Hood
Conventional Hood with Use Factor
Conventional Hood with Reduced Face Velocity
Externally Supplied Hood
Internally Supplied Hood
Perforated Ceiling Supply Hood
Horizontal Sliding Sash Hood
Laboratory Safety Guidelines
Hoods: The operational equipment must be enclosed in a hood, but adequate space must be left for the experimental processes. If there is a large equipment that cannot be housed in a hood and it doesn't release any flammable or toxic material, then it can be surrounded by anchored shields of safety or wired glass. Hoods must not be used as a storage area and all unused equipment and chemicals must be removed.
Emergency Equipment and Procedures: The emergency equipment that must be equipped in all chemical labs are fire blankets, fire extinguishers, eyewash fountains, deluge safety showers and emergency exits. Periodical testing of these equipment must be carried out by professionals. Operators working in the labs must be familiar with the emergency equipment and their location.
Personal Protection: Personnel must have an access to safety glasses, full face shields, rubber aprons, asbestos gloves and approval respirators to protect themselves from spattering chemicals, flying fragments, spills, burns and irritating fumes. Protection to personnel from any mishap in the hood is ensured by the laminated safety glass doors on chemical fume hoods.
Health Monitoring: There must be special medical control programs in labs to monitor the health of workers, especially when biological agents or carcinogens are used. Wear dosimeters or film badges to monitor exposures while using radioactive materials or radiation-producing equipment like X-ray defraction unit.
Labelling: It is a good practice to label all chemicals accurately. If any chemical is filled in a small container from a large storage container, then that small container must be labelled immediately. Containers containing hazardous chemicals must have precaution or warning as such as "Poison" or "flammable" indicated below the label. Once the chemical is used, the remaining chemical must be returned to storage container. No chemicals must be left in open containers.
Eating, Drinking and Smoking: Bringing cigarettes, pipes, cigars, food and beverages in the chemical laboratory is not allowed under any circumstances.
Using pipettes: Use a rubber bulb or syringe in order to pipette corrosive, toxic or radioactive chemicals.
Glassware: Do not use chipped or cracked glassware as it can cause scratch or cut, and further complications if it comes in contact with chemicals. Sharp ends must be fired polished. Protect your hand while inserting a rod or glass tubing piece through a perforated stopper.
Waste Disposal: Special handling is recommended in case of hazardous waste material disposal. Use a labelled metal container to place all broken glass pieces. Dump paper or rags in waste baskets or containers. Dilute acids and alkalis must be flushed down the drain along with large quantities of water.
Storage: Safety is ensured if you have an efficient placed storage room. Equip a well ventilated chemical storage room with protection equipment, like fire doors, fire extinguishers, sprinkler systems and safety lights. The liquid reagents must be grouped in order to prevent hazardous combinations that may produce fumes, fire, or explosion. Incompatible material must be segregated. The volatile liquids must be kept away from heat, electric switches, flames and other ignition sources. The solvents must be stored in safety cans. Always follow the supplier's instructions to store and frequently vent drummed chemicals. It is the responsibility of personnel to remember to secure compressed gas cylinders and replace valve caps when not in use. Use noncombustible storage cabinets in small labs with no separate storage rooms. The flammable solvents in large quantities must be placed outside in ventilated buildings.
Housekeeping: Safe laboratory operation is possible with good housekeeping. No equipment or obstructions must be present in passages, safety showers, fire extinguishers, exits, electrical controls, and stairways. The equipment or chemicals that are not in use must be removed from work space. The spilled chemicals must be immediately cleaned in order to prevent hazardous chemical combinations, burns, falls and spills
Specification
CAF 900
CAF 1200
CAF 1503
CAF 1803